No matter how old your dog becomes, they'll always be your baby…it's pretty much science.
Maybe your pup is 15 years going on five months, or is 110 pounds and insists that she's still as light as a feather — either way, though, they know that no matter what their birth certificate or the vet's scale says, they're forever young.
Here are just a few examples of how our pooches are just big babies at heart.
1. That doesn't even look comfortable.
2. "This is where I'm safe."
3. "The other dogs were teasing me."
4. Mom has to shower him with treats when Mr. Teddy goes to the washing machine.
5. He prefers the view from the top.
6. When she doesn't fall asleep, they have to take her for a drive.
7. "We're ready for our lullaby, ma."
8. "Just watch me."
9. All babies are expert escape artists.
10. She just learned about shadows…
11. He can't fall asleep without it.
12. "Can you buckle me?"
13. "OH, OH! Do the bouncy thing!"
14. "Okayyy, but you're next."
15. "More mashed peas, please!"
16. "Where's my binky??"
17. "The cat said I smelled funny."
18. "But…I didn't get my bottle yet!"
I'll just leave this here…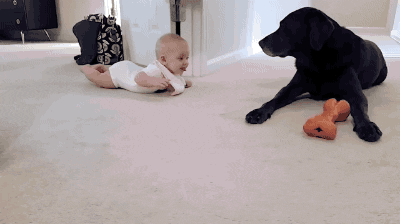 Read more: <a href="http://www.viralnova.com/big-baby-dogs/">http://www.viralnova.com</a>